Back to all posts
Posted on
Green and G.O.L.D. Groundbreaking!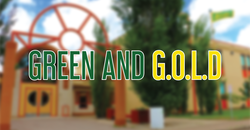 Glendon School is pleased to announce that construction will start on our Green and G.O.L.D. in just two weeks!
We will be hosting a groundbreaking ceremony and fundraiser in our northwest field on Tuesday, June 18th from 2:30-6:30 p.m., with the official "Golden Shovel" groundbreaking taking place at 5 p.m.
The celebration will also include a number of opportunities for participants to have fun while helping the Glendon Parent Advisory fundraise for the project.
This includes:
a barbecue (hot dog, hamburger), ice cream and bake sale starting at 4 p.m.
a car wash by the Grade 3's and local fire department from 3:30-6:30 p.m. 
dunk tank
face painting
pie eating contest
shot put challenge
fireman challenge
The Glendon Green and G.O.L.D. (Glendon Outdoor Leisure Development) project will provide Glendon School and local residents with outdoor space that can be used for a variety of organized sports and leisure activities. The project includes an eight-lane paved track, two baseball diamonds, a soccer/football field, tennis and pickleball courts, beach volleyball court, basketball court, and areas for long jump, triple jump, shotput, discus, javelin, high jump and pole vault.
With construction underway, the Glendon Parent Advisory working hard to fundraise the rest of the money that is needed to complete the project. To date, $840,000 in funding has been secured, including contributions from the Village of Glendon and MD of Bonnyville. An additional $300,000 is still needed.
Anyone interested in donating to the project is asked to contact the Glendon Parent Advisory.
For more information about the project, check out our Green and G.O.L.D. page