Transportation
Transportation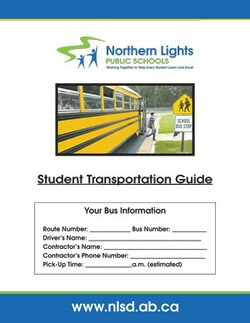 All students who want to take the bus to and/or from school need to register. 
As of September 1, 2016, in-town busing fees have been waived by the Northern Lights Public Schools Board of Trustees. 
Our Student Transportation Guide outlines the responsibilities of students, bus drivers and parents, as well as generatl information about our busing service. Please view the guide or our Frequently Asked Questions page for answers about the following: birthday parties and sleepovers; channels of communication; in-town busing information; school of choice information; and inclement weather information. Ensure that you read the brochure carefully and contact us if you have any questions.
Additional information is included in our Transportation Policy.
Inclement Weather
School buses will not run when A) the wind chill exceeds -45 degrees Celsius at 4 Wing Cold Lake or at the Lac La Biche Airport; or B) the outside air temperature, as measured at 4 Wing Cold Lake or at Lac La Biche Airport, equals or exceeds -40 degrees Celsius.
To find out what the wind chill factor is and what it means, please see our Windchill Factor chart. It also outlines the frostbite risks at certain temperatures.
If you are unsure weather or not buses are running in your area, click on the Bus Status icon on the left hand side of this page. To receive real time notifications of bus cancellations and delays, please download our NLSD-2-Go app for Apple or Android mobile devices. Bus cancellations and delays may also be shared with local news media or posted on our social media accounts.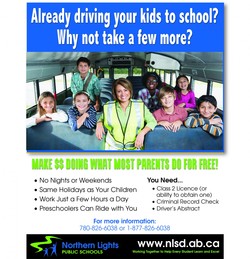 Become a bus driver!
Northern Lights and its bus contractors are always on the lookout for people interested in becoming school bus drivers and helping us transport students to school safely.
Some of the benefits include: 
Same holidays as your kids (including summer!)
Work just a few hours a day
Preschoolers can ride with you
No nights or weekends
All you need is a Class 2 licence (or the ability to obtain one), a Criminal Record Check, and a Driver's Abstract.
If this sounds like an opportunity you would be interested in, please contact us for more information.