Back to all posts
Posted on
Glendon Public Library News!!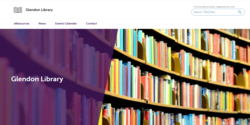 Parents/Guardians of Glendon School students:
As of October 30, 2023 our Glendon Community Library is open for public use in the respect of being able to have books delivered from other libraries in Alberta.  We can also return your books to those libraries.  At the moment we are not open for visitors, but plan on having a grand opening on January 27, 2024 after which we will operate in the full capacity of a public library.  
We wanted to let our school community know what will be happening with the students in our school. Each student will need a public library card in order to sign out library books starting in January, once the collection is re-catalogued to the public library system. Each student will receive a limited library card, which means they will only be able to sign out books from the Glendon Community Library.  If a parent/guardian wishes their child to be able to sign library books out from other libraries, they will have to stop in and sign a request to have that library card authorization changed. We will keep a copy of each library card here so that students don't have to remember their card each time they visit during the school year. There is no charge for students or community members to receive a library card.  
If you have any questions please call the Library Manager, Carla Paton, @ 780-635-3881, Option 2 or email at librarian@glendonlibrary.ca
Check out our website @ glendonlibrary.ca