Back to all posts
Posted on
Parent/Teacher Interviews - November 23, 2023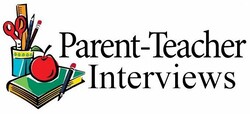 Parent/Teacher interviews are being held on November 23, 2023 from 3:45-9:00pm.  Parents have the choice of in person or phone interviews with their childs teachers.  Bookings are now open through the Bookings Portal on our website. If your children share a teacher please book for those children at the same time.  Bookings will close at 3:30pm on Wednesday, November 22 2023. Appointments will not be available for booking after this time.  Please follow the process listed below. 
1. Click on the bookings tab on the website or the one attached here  Bookings
2. Fill in your information
3. Choose "In person" or "Phone call" (if you are choosing phone call, please make sure the number listed is the best one to reach you at)
4. Choose the class and the teacher you wish to see
5. Select the time that woks best for you
6. Click submit
You should receive an email confirmation with your bookings listed, please keep this copy for your information.
If you are booking a phone call, please make sure your are available 5-10 minutes prior to your call. The teacher you booked with will call you at the appointed time.
If you have problems booking, please call Mrs. Paton at the school and she will help you.